Good questions trump easy answers…
When it comes to life and business, asking the right questions can help you win more business, deepened your relationships, and connect with people more rapidly than you ever thought possible.
In the book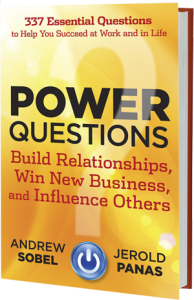 Power Questions
Andrew Sobel and Jerold Panas layout an an easy to follow format 337 essential questions to help us succeed at work and in life.
The book shows you how to use thought-provoking questions to engage people and uncover their most pressing issues and to get inside the heart and mind of anyone you meet.
I fing the book useful because I learn exactly how each power question was used and the impact it had. It transformed my daily conversations and my relationship with my wife and kids.
Read it and you will learn:
The sales question CEOs expect you to ask
The question that can radically refocus any meeting
The question that stopped an angry executive in his track
A simple question that helped restore a marriage
The penetrating question that can transform the life of a friend or colleague
The book shows how knowing the right question to ask is actually far more important than having a ready answer and that we don't have to be brilliant or clever, we just have to ask better questions.
Why read the Power Questions book?
Why not?
Specially when asking the right question is better than having the right answer.
Communication is something we all can easily improve. Use this book to learn from others successes and mistakes. I keep my favorite list of power questions in Evernote so I can have access to them anytime.